Hey all!
Tēnā Koutou and Welcome to Ngapeke Permaculture, a not-for-profit earth-friendly land management project!
In 2018 the Trustees of this land block known as 'Ngapeke 7' decided that there was more that could be done on the property. A project that could enlist locals and whanau or families to realise the full potential of the block and its surroundings including the community around it. Creating a way of life that works with the ENVIRONMENT and not against it.
IWI INDIGENOUS VALUES and PERMACULTURE PRINCIPLES form the backbone of this project! We encourage people to participate in the activities of Maara kai for a Food-Secure Future, and also encourage participation in the principles of Kaitiakitanga for a Sustainable Future, in the knowledge that active participation in these activities contributes to the physical, mental, and spiritual well-being of Taangata (people) and Taiao (the natural environment).
With that in mind, the following three principles also apply…
Kai Mahamaha – Food Abundance and food security is an end goal for us here at Ngapeke Permaculture. The Food Forest is the biggest project so far. The first trees were planted in November 2020! About two thirds of the food forest has been planted out so far. Be sure to check out our YouTube channel documenting day to day life at the block.

Tiaki Taiao

– Earth Care means using earth-friendy practices to ensure that our footprint or tapuwae has no negative impact on the land or environment we live in. For example we use what most would consider weeds to make mulch and compost so that we are returning it to the soil it came from to benefit other trees and plants instead of applying harmful herbicides and pesticides. In fact we do not spray at all and we do not use harmful chemicals whatsoever. Our produce is grown thoughtfully so as not to have any harmful affect on the environment or on humanity.

Oranga Tangata

– People Care includes those living in our wider community! We show this by introducing our community to natural gardening practices as is the case with traditional māra kai – a traditional form of natural gardening used by māori the original inhabitants of Aotearoa, New Zealand.
Our YouTube Channel!
We keep a video diary on our Youtube channel depicting life at the block starting with Episode 1 as follows. It will really help us if you Like, Comment, and Subscribe to our channel.
Permaculture Design in the Landscape!
The pic that follows shows the swale system carved out on contour in the landscape before the tree planting started back in November 2020. This is another earth-friendly considered approach that ensures we have water from the rain in the system and it doesn't put pressure on the existing infrastructure. The wonderful thing about having this swale system in our design is that our trees still get plenty of water even though there is no permanent 'hardware' such as hoses, taps, tanks, or pumps used to get water to the trees! So, very cost-effective too!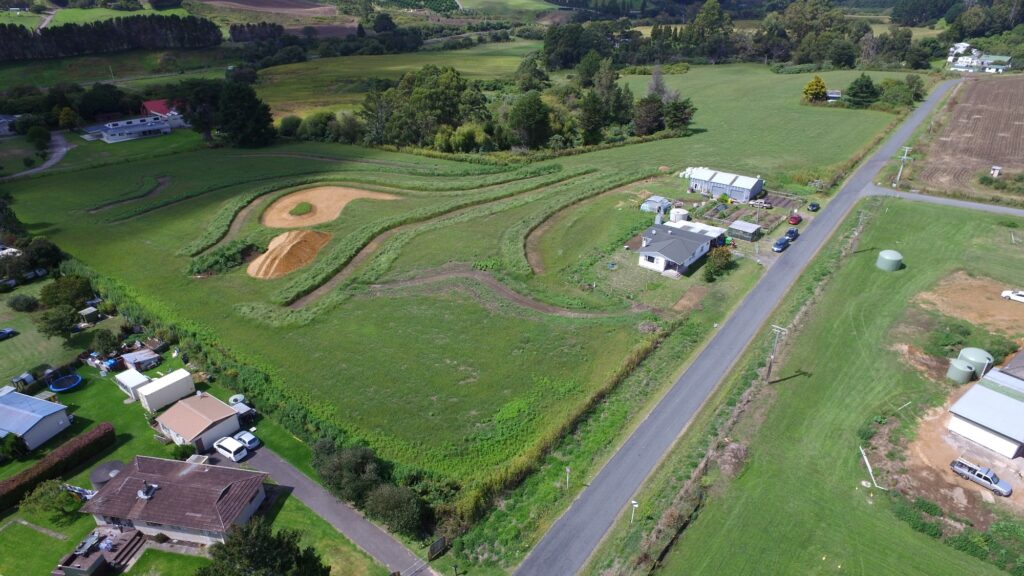 The Team!
Our team at Ngapeke Permaculture all CARE DEEPLY for NATURE and our ENVIRONMENT, including the LAND, RIVERS and WATERWAYS, PEOPLE, LOCAL COMMUNITIES, and other LIVING BEINGS who rely on this land and its surroundings for sustenance, good health, and wellbeing.
The following is a pic taken during one of the community workshops we run on a weekly basis when we aren't in lockdown that is. Participants seem to enjoy their time with us and will often come back for more and almost all of them will register to volunteer their time to us when we need them – usually when there is a lot of planting to be done!
Come and join us if you dare to have fun! – there's lots to LEARN and EXPLORE! We can arrange a bed for you if you are coming from afar! All our volunteers will get watered and fed as well, in exchange for a few hours of work a day ? … REGISTER your interest HERE. We would love to have you!
From the Team 🙂